Mission Statement
James Sprunt Community College is a service-oriented college that responds to the needs of Duplin and surrounding counties by enabling a diverse population to attain their personal, academic and career goals. The College will meet and enhance the educational needs of the community accomplished through effective teaching and learning.
JSCC Board Approved, January 15, 2013
Goals
To develop, through educational programs and support services, adults and pre-college youth competent in the knowledge and skills necessary to prepare them for the workforce or to continue their education at other institutions of higher learning.
To enhance student academic achievement and retention by improving the first year experience.
To enhance the quality of community life and serve as a catalyst to Duplin County's progress.
To ensure high quality in all programs and services by providing qualified personnel and appropriate facilities, equipment, and technology.
Competencies
JSCC had adopted a competency-based approach to its educational programs, in which competencies expected of all graduates are agreed upon and defined and courses or experiences are designed to assist the student in becoming competent.
A student who graduates from JSCC will be:
Competent in his/her program area of specialization.
Competent to communicate effectively through writing, speaking, mathematics and in basic use of computers in his/her area of specialization.
Competent to assess his/her skills and knowledge and use of such assessment as a basis for further growth.
Competent to assess the values of American society and to function as a contributing member of that democracy.
Competent to reason and analyze so that he/she may function effectively in his/her area of specialization as well as in the larger world.
Accreditation
James Sprunt Community College is accredited by the Commission on Colleges of the Southern Association of Colleges and Schools, 1866 South ern Lane, Decatur, Georgia 30033-4097; Telephone Number 404-679-4500, to award associate degrees, diplomas, and certificates. James Sprunt Community College is also accredited by the North Carolina State Board of Community Colleges, the N. C. Department of Justice- Criminal Justice Standards Division. James Sprunt Community College is also approved by the Division of Vocational Rehabilitation, the North Carolina State Board of Nursing, and the State Board of Cosmetic Art Examiners.
The Commission on Colleges reaffirmed James Sprunt Community Colleges's accreditation at their June 2009 meeting.
Location
The college's main campus is located in the population center of Duplin County, North Carolina, on N. C. Highway 11 South near the town of Kenansville. The 53-acre landscaped campus provides an attractive setting for an educational and cultural center for students and the community. The Kenansville campus is comprised of seven main buildings, housing administrative offices, classrooms, laboratories, vocational shops, library, cafeteria, and student center.
The newest building, The Zettie Brinson Williams Building, was dedicated in April, 2008.
The College also operates an Adult Education Center four evenings a week at the East Duplin High School, located Beulaville, N.C. The College offers several curriculum courses along with a wide variety of continuing education courses at this center each semester except Summer Semester. The College also offers courses at the N.C. Department of Corrections located in Kenansville. Many civic, educational and cultural organizations make use of the College's facilities for meetings and workshops. Facilities are available upon request on a space-available basis.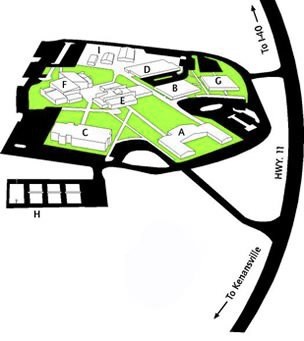 James Sprunt Community College is on Hwy. 11 S. in historic Kenansville, NC. Located at the intersection of NC 11, NC 50, and NC 24,
Kenansville is 70 miles from Raleigh, 50 miles from Wilmington, 35 miles from Jacksonville, Kinston and Goldsboro.
Major nearby highways are I-40, US 117 and US 421.
Driving Instructions:
James Sprunt Community College is located on NC Highway 11, one mile south of Kenansville. It is about 80 miles south of Raleigh and 60 miles north of Wilmington traveling by I-40. From I-40, use Exit 373. JSCC is about 5 miles from this exit using NC Highway 903 to NC Highway 11. Directions are clearly marked.
From the Fayetteville area, take NC Highway 24 east through Clinton and Warsaw.
From the Jacksonville area, take NC Highway 24 west through Richlands and Beulaville.
From the Kinston or Greenville areas, take NC Highway 11 south through Pink Hill.
From the Goldsboro area, take NC Highway 117 south to Warsaw, then NC Highway 24-50 east to Kenansville.